Latest News
Tech
Counterpoint: Europe's smartphone market slides further in Q2
Q1 was the worst first quarter for smartphone shipments in Europe since 2013, based on data by Counterpoint Research. In the second quarter the market fell 13% compared to Q1 for a total of 40.3 million units shipped – the worst Q2 since 2020.
Compared to Q2 last year, the market is down 11%, but that doesn't paint a complete picture of the interesting dynamics at work. The war, the shaky economy and the resurgence of COVID-19 all hampered smartphone makers.


Quarterly Smartphone shipments in Europe and change compared to Q2 2021 (source: Counterpoint)
At first glance Samsung and Apple did okay – their shipments and market share rose compared to the same period last year. However, both showed a sharp decline from Q1 of this year.
In Samsung's case, Q2 2021 was its weakest quarter in over a decade since at the time the company was struggling with shutdowns at its Vietnamese factories. That makes the numbers for this Q2 less impressive. There was another factor at play – Samsung pulled out of Russia, which lead to a decline in shipments compared to the first three months of this year.
The same goes for Apple, according to Counterpoint. Shipments rose on the back of the popular iPhone SE (2022), but total shipments were not as high as they could have been since Apple withdrew from the Russian market.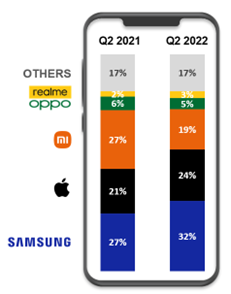 Top 5 smartphone makers in Europe by market share, Q2 2021 vs. Q2 2022 (source: Counterpoint)
Xiaomi experienced the opposite of Samsung's situation. Q2 2021 as its best ever quarter on the European market, Q2 2022 not so much. However, the company benefited from Samsung and Apple's withdrawal from Russia, which allowed it to ship more units.
Oppo and Realme round off the Top 5 and also had opposite fates. Oppo was hit hard by supply and manufacturing issues in China, while Realme posted double-digit growth on a yearly basis.
"The situation in Europe unfortunately remains bleak. Many countries in Europe are slipping closer to recession, and domestic political tensions in numerous countries beyond Russia and Ukraine are rising, for example in France, Germany and the UK. We remain hopeful, though, that the bottom has been reached and the trajectory should turn upwards soon, but the recovery will likely be long and slow," said Counterpoint Research's Associate Director Jan Stryjak.